Spoilers ahead! Please read at your own caution!
This is a wiki for the webcomic Glitzing Stars, this series are created and owned by General Velvet.

As long as you're logged in you can edit and expand our wiki to it's fullest potential!
153 articles, 199 files, 9,248 edits, with 2 editors, and still growing!
✧✦Characters✦✧
See Characters for all articles pages.
✧The Story✧
Glitzing Stars is a mature, horror-themed webcomic that focuses around Starlette Blu Luminous who lives in the mysterious BloodMoon City, a major city in the Ring County that's said to be shrouded with terror. The creator of the webcomic series is General Velvet.


It's the year 3024, BloodMoon City, along with other neighboring towns, has been issued for another citywide lockdown. Although, wanting to live a peaceful life to fulfill her promise to her late-Grandmother, Starlette Blu Luminous been feeling... on edge for nearly years since she moved here. There's been a strange increase in missing people and deaths throughout the county, these cases are even rumored to be the cause of monsters invading the cities, even Starlette's friends started wondering about it too. But those were just silly rumors resurging to scare citizens, are they not?
‌
⇞See more content⇞
See our Staff
| | | | | | | | | | | |
| --- | --- | --- | --- | --- | --- | --- | --- | --- | --- | --- |
| | | • | | • | | • | | • | | |
Contributing
This wiki and our staff appreciate a helping hand! Help contributing to the wiki by creating a page!
---
Search our pages to check there isn't any duplicates.
Recent Posts
Sweegi
•
The FandomDesktop has taken over and now mobile has been killed
f
See more >
This wiki was created on July 18th, 2020, and was made to for the intention of gathering canonical information about the series' lore, characters, and creators.
Vulx News
November 29th, 2021
- Happy birthday to
Miranda Lupo
!

November 26th, 2021 - Our policies have been updated, be sure to review them.
November 7th, 2021 - Puck Cassidy has been moved to Mab Antonia Nogueira, refresh your screens!
October 30th, 2021 - Gleaming Stars has been added!
October 26th, 2021 - Puck Evan Cassidy has been moved to Puck Cassidy, refresh your screens!
October 22nd, 2021 - Intan, Dios, Shista, and Ha have been added!
October 20th, 2021 - Jelle van der Zee has been added!
October 16th, 2021 - Happy birthday to Ganymede Winter!
Birthdays
---
Today is Mab's birthday!
⇟Featured Character⇟
Ophelia is a supporting character for Glitzing Stars, she is the wife of Ganymede and a close friend of Celeste, she's known for creating and wearing cosplays on the side.
Read more ⇻
⇟Featured Photo⇟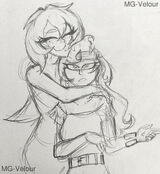 Hamlet's disposition when being hugged by her mom.
See more ⇻